Apollo Munich Health Insurance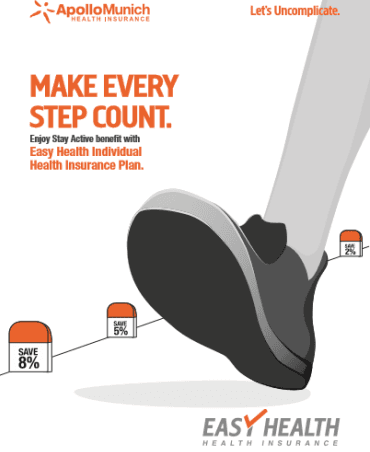 ---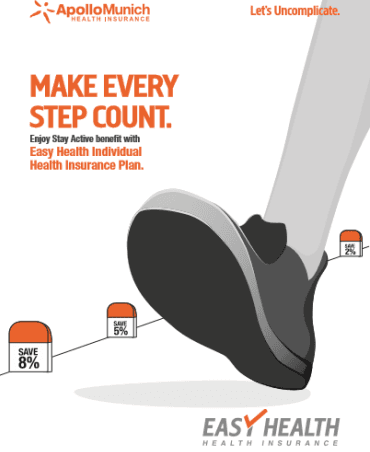 Easy Health Individual Insurance Plan
Apollo Munich Easy Health is a comprehensive product that covers medical treatments, illnesses along with providing additional optional cover for critical illnesses. The plan is available in three variants – Standard, Exclusive and Premium.
One of the major benefits of this plan is that for each unclaimed year, no-claim bonus equal to 10% of basic sum insured up to a maximum of 100 % is available. Notably, the cumulative bonus is reduced by 10 % of sum insured once a claim is made while the basic sum insured remains unaffected.
With no capping on room rent or any kind of copayment, Apollo Munich Easy Health offers numerous key benefits to the policyholder.
It is quick and easy to secure your health with just a click of a button by buying Apollo Munich Easy Health online.
Critical Illness Coverage - Policyholder can opt for additional cover for some of the critical illnesses listed in the policy wording. This additional coverage may equal to 50% or 100% of sum insured up to a maximum of Rs. 10,00,000/-. Under the premium variant, policyholder gets the benefit of free e-opinion (second opinion) once in a policy year in case critical illness is diagnosed. One can avail this benefit only after 30 days of survival and it will not be applicable for the same critical illness or if 3 or more claims have been made in a policy year.
Alternative Practice Coverage - Coverage for in-patient Ayurveda, Unani, Sidha and Homeopathy treatment, amount of which will depend on the sum insured and type of variant chosen by the policyholder.