HDFC Infinia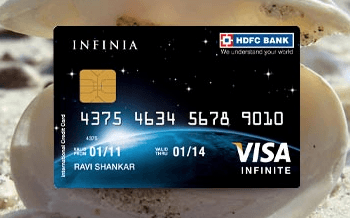 Live Life Limitless with infinite opportunities at your disposal.
Step into a whole new world of Infinite possibilities, where limitations are overcome with ease and where your spending power fuses with life's finest. Go ahead, there are limitless experiences out there.
Shop without worrying about credit or spending limits. The HDFC Bank Infinia Credit Card comes with a minimum credit limit of Rs 10 lakh and the unique NPSL* (No Pre-set Spending Limit) feature. What's more, your card is safeguarded against fraudulent transactions, so that your interests are protected, always.
HDFC Diners Club Black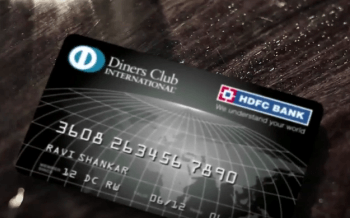 If your wish list includes the Entire World, Diners Club Black is the Card for you !
Book Air Tickets / Hotels across 150+ Airlines and Choice of hotels (Domestic & International) at www.hdfcbankdinersclub.com and get 2X Reward Point. Exclusive 24/7 Concierge Services on Your HDFC Bank Diners Club Credit Card. All your exclusive booking needs will be taken care by the concierge while you enjoy the exciting moments.
Get Air AccidentCover of INR 2 Crore, Emergency Medical Expenses Cover of up to INR 50 Lakh, Credit Liability Coverof up toINR 9 Lakh and Travel Insurance Cover of up to INR 55,000 on baggage delay/loss(Capped to 10$ per hour restricted to 8 hours).
HDFC Doctor's Superia
Only Premium Credit Card with exclusive travel benefits for doctors with the best lounge program.
Enjoy spending on your HDFC Bank Doctor's Superia Credit Card with 3 Reward Points for every Rs. 150 you spend. Accumulate Reward Points and redeem them for air miles on more than 20 international airlines or on any major domestic airline. (100 Reward Points = 70 air miles / Rs. 70 Air Voucher).You can also redeem your Reward Points for exciting gifts from an exclusive rewards catalogue, at the applicable redemption rate.
Your HDFC Bank Doctor's Superia Credit Card gives you tons of reasons to dine out. Enjoy 50% more reward points* when you dine. Now every meal will be more rewarding.
HDFC Platinum Plus
A premium Platinum Plus Credit Card with freedom to fill fuel across any fuel station.
Platinum Plus card offers 2 Reward Points on every Rs. 150 for spends up to Rs. 50,000 per statement cycle. For incremental spends above Rs. 50,000 in a statement cycle, earn 50% more Reward Points i.e. 3 Reward Points per Rs. 150.
Share the excellent features of your Platinum Plus Credit Card with your loved ones. Get up to 3 lifetime free add-on cards, which you can give to your spouse, children (above 18 years of age), parents, brothers or sisters.
Register your Platinum Plus Credit Card with SmartPay, HDFC Bank's Utility Bill payment service. You can then ensure that all your utility bills are paid on time, conveniently and easily.
JetPrivilege HDFC Bank World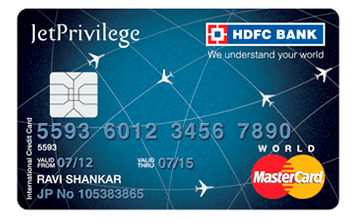 The best airline co-brand offering exclusive travel privileges. Now Fly FREE Faster.
Embark on you exciting journey with one complimentary Jet Airways Ticket* (Base Fare Waived off applicable on Deal Fare Choices in Economy) for domestic travel on Jet Airways within India.
Avail of up to 10,000 Bonus Miles, which includes 5,000 Bonus JPMiles on the first swipe of your card within 90 days of card setup and 5,000 Bonus JPMiles on the total retail spends of Rs. 75,000 and above, within 90 days of the card setup.
Experience luxury and saving with a discount voucher* worth INR 750 to be availed for booking a return ticket for domestic travel (applicable on Deal Fare Choices in Economy) on Jet Airways within India.
HDFC Platinum Times Card
Great entertainment card with flat 25% off on movie tickets and up to 20% off on dining, 365 days of the year.
Get started on an entertaining journey with a range of gift vouchers for shopping, apparel, dining and many more categories. Avail amazing around-the-year discount offers at participating movie and dining outlets in your city.
Earn 3 Reward Points for every Rs. 150 spent on your card.Earn 10 Reward Points* on every Rs. 150 spent on Dining spends on weekdays (Weekdays = Monday to Friday).
Avail of up to 50 days interest free from the date of purchase (subject to the submission of the charge by the Merchant). Enjoy Revolving Credit on your Credit Card at nominal interest rate, refer Fee and Charges section.