Star Health Insurance
---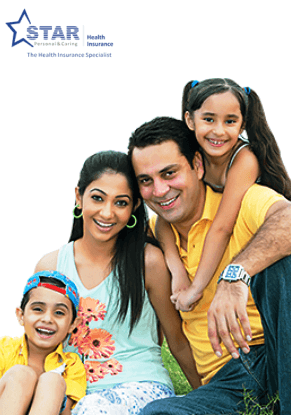 Star Comprehensive Insurance Policy
Hospitalization cover protects the insured for in patient hospitalization expenses for a minimum period of 24 hrs. These expenses include room rent (Single Standard A/C room), nursing and boarding charges, Surgeon, Anesthetist, Medical Practitioner, Consultants, Specialist fees, Cost of Medicines and Drugs.Expenses for Delivery - including Pre-natal and Post natal expenses up-to the limits specified. A waiting period of 36 months of continuous coverage under this policy with Star will apply.
Here are some more highlights of Star Health Insurance:
No cap on room rent and treatment cost.
Covers medical expenses incurred on Bariatric surgical procedures and its complications.
Cost of health check up for every block of 3 claim free years.
CCover for maternity (normal and caesarean delivery) and New born baby.
Automatic restoration of entire Sum insured by 100%..
Personal accident cover against Death and Permanent total disablement (equal to the Health Insurance cover) at no additional cost.